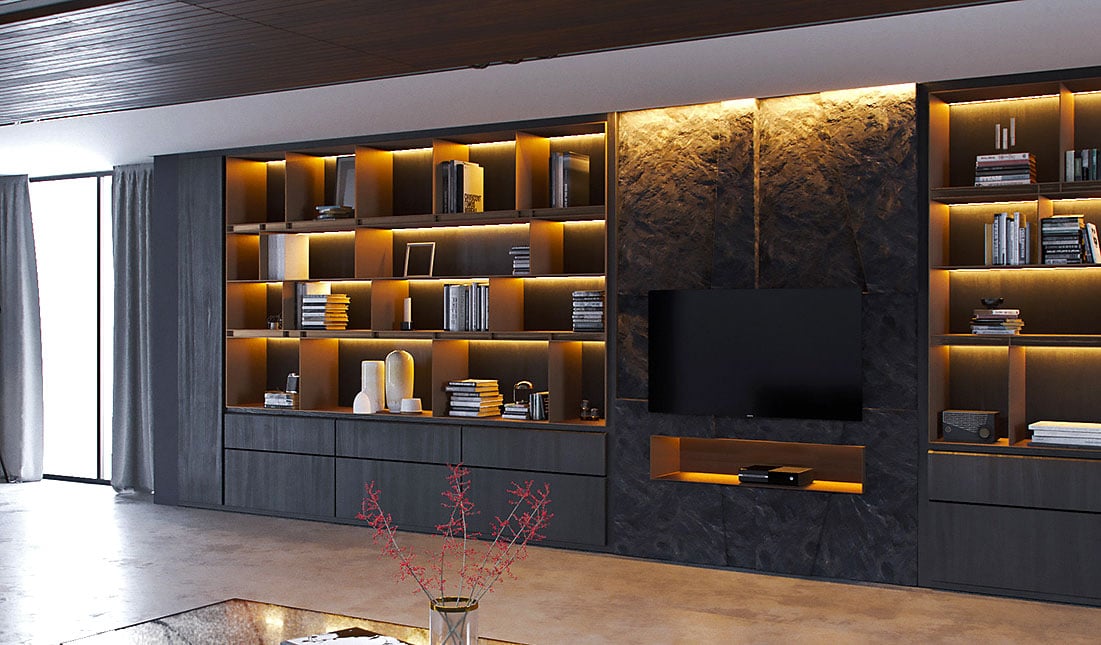 HOME INTERIOR STORAGE SOLUTION – MAXIMIZING SMALL SPACES
Trying to design or furnish a small space in your home interior can be a challenge, especially when you want the place to look nice and not feel disarray. No matter how big or tiny the house may be, it is important to make the most out of each room you have.Whether you are looking to maximize space in a small bedroom or are maximizing small spaces throughout the house,
Wallmarker Builders And Interiors help to design and furnish your dream home in Kannur,Thalassery,Mahe,Nadapuram,Calicut…etc
Apply Light/White Colors
Applying light, neutral-toned colors in tiny rooms gives the fantasy that the area is more spacious than it actually is. When taking paint and color palettes for your small space, the simpler the better. sticking with lighter colors and tones of white tricks the eye into thinking that the room is more open.Adding various textures is another method to keep the place from falling flat.
Furniture with Built-in Storage
It's no mystery that small rooms tend to have little to no space for storage. When looking to maximize storage in a tiny bedroom or another area, it's a good plan to find furniture that comes with built-in storage.
For example, furniture and ottomans with hidden compartments for storage make storing all of those blankets, pillows, and other items easy and accessible. Coffee tables with drawers and open shelving below are excellent for helping to get rid of the disorder. Extra space underneath chairs, beds, or coats provides more space-saving areas to stow those items you want to be covered.
Capitalize on Wall Space
In a tiny space, each inch of the room counts so it's important that you make the most of your wall area. By hanging objects on the wall, they free up more floor space, giving more room for pieces of furniture.
Using floating shelves instead of standing shelves is a smart way to display your objects while still maximizing small spaces. In addition, mounting your TV on the wall conserves you from needing a media console or TV stand which can waste a lot of unnecessary room.So, when you are maximizing space in a house, try to find artistic ways to make the most out of your walls that will enable you to regain floor area.
Multipurpose Furniture
When the space or storage in a room is short, utilizing pieces of furniture that can help more than one purpose is a great idea for maximizing space in a house. Having any pieces of furniture in a room will obviously save you space, and finding ones that have multiple functions is key.
Some examples of multipurpose furniture for your small space include a sofa that doubles as a pull-out bed, a table that can also function as a desk, or ottomans that can serve as side tables or extra seating. Don't be scared to get artistic when it comes to maximizing your area
Don't Forget to Add Mirrors
Did you know that adding a mirror in a small area can instantly make your area feel bigger, lighter, and more open? They give the illusion of doubling the look of a room, making it feel and appear larger than it actually is. Plus, mirrors can be a creative way to add personality to a room without taking up much space. With the infinite options available, there are mirrors to spice up every home.