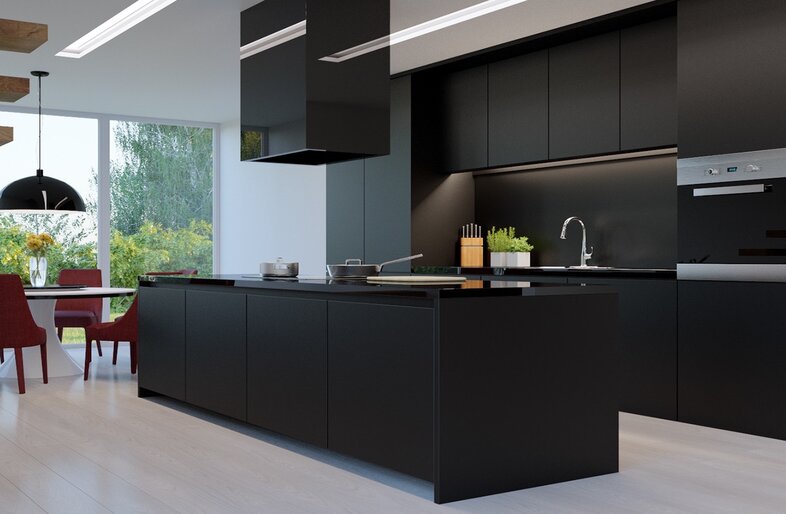 TIPS FOR STYLING YOUR KITCHEN INTERIOR
The kitchen is the heart of the home and also the kitchen is a frequently visiting part for food and mom. In this modern period, kitchen furnishing in Kerala is much more than creating just a cooking and storage space. In short, a perfect kitchen can create a good atmosphere throughout the house. A specialist interior designer can help to construct a suitable modern kitchen incorporating all luxuries
The Wallmarker Builders And Interiors offer the latest modular kitchen designs at affordable prices. We are the best modular kitchen designer in Kannur– Kerala is doing excellent modular kitchen interiors in Kerala.
What is looking for main when planning a kitchen redesign?
1.KITCHEN LAYOUT
The three most important components of your kitchen design are the stove, the refrigerator, and the sink. Kitchen layout forms the structure and the plan of our kitchen. The effectiveness of space utilization is extremely much dependent on the kitchen design, a suitable kitchen design ensures the efficiency of space planning and kitchen workflow.
One of the most basic design principles is the kitchen work triangle. The work triangle is an imaginary line drawn from each of the three primary work positions in the kitchen
1. the food storage
2. preparation/cooking,
3. clean-up stations.
Switching these lines, we can assess the distance required to move to and from each area and thus determine how well the traffic will flow.Choosing a kitchen layout depends on the space available, the physical layout of your kitchen, efficiency, and convenience desired.
2. MAKE YOUR KITCHEN MULTI FUNCTIONAL
Today when people make their homes, the living room isn't the heart of the house anymore. Sometimes, the kitchen serves this purpose. A lot of people not only cook in the kitchen but also entertain their guests out there, dine out there, and manage to turn the kitchen into a multi-functional area. If you look at a multi-functional kitchen in a literal mind, then you will realize that it refers to the place where food can be cooked as well as eaten. Sometimes if you have a small flat or home, then you might not even have a dining area. There are various kitchen tops and counters which are available which serve as preparation as well as a serving area and these paired up with bar stools serve as a dining area in the kitchen.
3.ORGANIZE KITCHEN CABINETS
Most people don't pay ample attention to how they allocate or use cupboard space, but this is one of the essential aspects that give a kitchen design that professional touch. Your cupboard layout should be designed according to how you utilize the space. Locate items that you commonly use together near to each other.
4.CREATE FLOOR PLAN
Every kitchen designer knows that the best way to begin any kitchen project is with a floor plan. That way you can plan your kitchen design before you book your constructor. Try several design choices, add fixtures, finishes, and cabinets, and see how they look instantly in 3D!